Arkham is a fictional city set in the US state of Massachusetts, and makes up a key part of the Lovecraft Country setting.
Lovecraft Mythos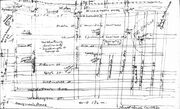 "
What lay behind our joint love of shadows and marvels was, no doubt, the ancient, mouldering, and subtly fearsome town in which we live - witch-cursed, legend-haunted Arkham, whose huddled, sagging gambrel roofs and crumbling Georgian balustrades brood out the centuries beside the darkly muttering Miskatonic.
"
~

HPL

 , The Thing on the Doorstep
Arkham's most notable characteristics are its gambrel roofs and the dark legends that have surrounded the city for centuries. The disappearance of children (presumably murdered in ritual sacrifices) at May Eve and other "bad doings" are accepted as a part of life for the poorer citizens of the city.
The city is home to Miskatonic University, the Arkham Historical Society and Arkham Sanitarium. It is said in that the town was devastated by a typhoid outbreak in 1905. (HPL: "Herbert West--Reanimator")
Arkham's main newspaper is the Arkham Advertiser, which has a circulation that reaches as far as Dunwich. In the 1880s, its newspaper is called the Arkham Gazette.
Location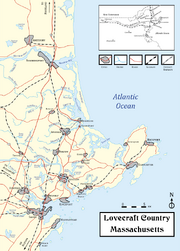 The precise location of Arkham is unspecified, although it is probably near both Innsmouth and Dunwich. However, it may be surmised from Lovecraft's stories that it is some distance to the north of Boston, probably in Essex County, Massachusetts.
The actual location of Arkham is a subject of debate. Will Murray places Arkham in central Massachusetts and suggests that it is based on the small village of Oakham. Robert D. Marten rejects this claim and equates Arkham with Salem, and thinks that Arkham is named for Arkwright, Rhode Island (which is now part of Fiskville).
"
[Lovecraft's] mental picture of Arkham is of a town something like Salem in atmosphere [and] style of houses, but more hilly [and] with a college (which Salem [lacks]) ... [He] place[s] the town [and] the imaginary Miskatonic [River] somewhere north of Salem—perhaps near Manchester."
"
~

HPL

: letter to F. Lee Baldwin dated April 29, 1934;

EXP

: An H. P. Lovecraft Encyclopedia

A more recent mapping of Lovecraft Country reinforces this suggestion, with Arkham being situated close to the location of Gordon College; in Lovecraft's work this would presumably be replaced by Miskatonic University itself. The real-life model for Arkham seems to be, in fact, Salem, its reputation for the occult appealing to one who dabbles in the weird tale. August Derleth stated in his writings: "Arkham ... was Lovecraft's own well-known, widely used place-name for legend-haunted Salem, Massachusetts, in his remarkable fiction". (AWD: "About Arkham House" web site)
Arkham Sanitarium appears in the short story "The Thing on the Doorstep" and may have been inspired by the Danvers State Insane Asylum, aka Danvers State Hospital, located in Danvers, Massachusetts.[1] (Danvers State Hospital also appears in Lovecraft's stories "Pickman's Model" and "The Shadow over Innsmouth".).
One of the ships used by the Miskatonic University expedition was named Arkham after the city. (HPL: At the Mountains of Madness)
Appearances
Lovecraft's fiction
Note: dates are the year written. Arkham has appeared in the Cthulhu Mythos tales of other writers since Lovecraft's death. Among them:
Robert Bloch. "

The Creeper in the Crypt

" (1937)
Brennen, Joseph Payne. "Forringer's Fortune" (1975)

John Brunner

. "

Concerning the Forthcoming Inexpensive Paperback Translation of the Necronomicon of Abdul Alhazred

" (1992)
Ramsey Campbell
Jens, Tina L. "In His Daughter's Darkling Womb" (1997), mentions "Arkham Industries"
Alberto López Aroca. Necronomicón Z (Spanish novel published by Ediciones Dolmen, 2012)
Robert M. Price "Wilbur Whateley Waiting" (1987)
Michael Shea. The Color out of Time (1984)
Clark Ashton Smith. "

I Am a Witch

" (19??)
Thompson, C. Hall. "The Will of Claude Ashur" (1947)
F. Paul Wilson. "

The Barrens

" (1990)
Jonathan L. Howard. "Johannes Cabal: The Fear Institute" (2011)
Alexandre Callari. "A Floresta das Árvores Retorcidas (The Forest of Gnarled Trees)" (Brazilian Novel Published by Pipoca & Nanquim.
In Popular Culture
Main article: Cthulhu Mythos in Popular Culture: Arkham
See also
Notes
Arkham House, a publishing company started by two of Lovecraft's correspondents, August Derleth and Donald Wandrei, takes its name from this city as a tribute.[2]
Gallery
References
Primary sources
Lovecraft, Howard P.

At the Mountains of Madness, and Other Novels (7th corrected printing), S. T. Joshi (ed.), Sauk City, WI: Arkham House, 1985. ISBN 0-87054-038-6. Definitive version.
Dagon and Other Macabre Tales, S. T. Joshi (ed.), Sauk City, WI: Arkham House, 1987. ISBN 0-87054-039-4. Definitive version.
The Dunwich Horror and Others (9th corrected printing), S. T. Joshi (ed.), Sauk City, WI: Arkham House, 1984. ISBN 0-87054-037-8. Definitive version.
Secondary sources
Books
Web sites