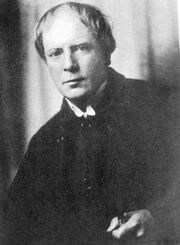 Arthur Machen was the pen name of Arthur Llewellyn Jones, (born March 3, 1863, Caerleon, Monmouthshire, Eng.—died Dec. 15, 1947, Beaconsfield, Buckinghamshire). He was a major and influential Welsh novelist and essayist, a forerunner of 20th-century Gothic science fiction and a skilled propagandist.
Machen's work was deeply influenced by his childhood in Wales and his readings in the occult and metaphysics. As a child he encountered the findings of local archaeologists, who in the 1870s were digging up strange pagan sculptures and inscribed stones dating from the Roman occupation of the region. Machen's grandfather who was a local clergyman had found Roman inscriptions and carvings in his own churchyard at Caerleon, and the boy's imagination was captured early on in his life by the sense that the ground itself was haunted with a tangible and pagan strangeness. This sense of archaic survivals and suggestive inscriptions and remnants inflected all of his stories of the weird and occult. The temple of the Romano-British god Nodens was excavated at Lydney Park close to where Machen spent his boyhood years and it is notable that this "Celtic" deity urns up in some of his most memorable horror fiction.
He lived most of his life in poverty as a clerk, teacher, and translator. In 1902 he became an actor with Benson's Shakespearean Repertory Company. And, in 1912, approaching his 50th birthday, he joined the staff of the London Evening News.
Arthur Machen was a leading Welsh author of the 1890s. He is best known for his influential supernatural, fantasy, and horror fiction. His long story The Great God Pan made him famous and controversial in his lifetime, but The Hill of Dreams is generally considered his masterpiece. He also is well known for his leading role in creating the legend of the Angels of Mons.