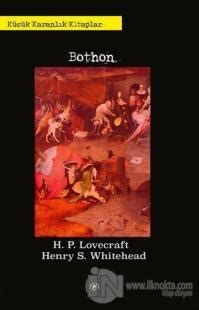 Bothon is a short story by Henry S. Whitehead and H.P. Lovecraft.
Synopsis
Powers Meredith, a man from the time when the story was written (1930), is captivated by ever more vivid dream states in which he is Bothon, a General serving Atlantis in his home province of Ludetka.
Called upon to defend Alu, the capital of the world-empire of Atlantis and a magnificent decadent metropolis in its own right, he loses three quarters of his army when cataclysmic earthquakes strike the city for the first time. His army defeated, Bothon ends up in the deepest dungeon of the capital, a prisoner.
Meredith discovers that other people of his own waking world have used words from the language spoken in his dream, and seem to be part of the shared dream or hallucination of ancient times.
Returning to Atlantis in dream state, Meredith, as Bothon, rescues a beloved noblewoman. Together, they watch as Atlantis is annihilated under an enormous lethal green tidal wave, ending the civilization.
Behind the Mythos
Henry S. Whitehead was the man who was primarily responsible for introducing the popular culture conceptualization of voodoo and its accompanying zombie lore to the English-speaking world. He was also greatly admired by members of the Lovecraft Circle including Lovecraft himself. Bothon is as with many Whitehead stories, a very early anticipation of a Caribbean trope that would eventually be made commonplace, in this instance the idea of a Caribbean location for the lost city (and world empire) of Atlantis.