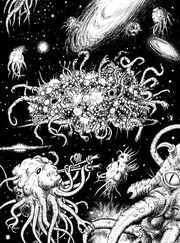 The Court of Azathoth is a place mentioned in the Cthulhu Mythos. Sometimes it is called "the Final Void". According to some accounts, it awaits behind the last of the Gates.
Location
The Court of Azathoth is located, presumably, in the place beyond the angular space, in which all dimensions come together.
Description
The Court stands on a plane beyond space and time, serving as the abode for the lobotomized Azathoth, "the foolish Daemon Sultan." There, the almighty Outer God remains dormant by the sounds sung by amorphous flute players. Both Nyarlathotep and Yog-Sothoth are known to visit the Court of Azathoth to review the state he is in after some time.
As for its appearance, it can be said that the Court of Azathoth represents the pure essence of chaos: anything strange and surreal that one can imagine has a place in that world that goes beyond logic.
Fauna and Flora
The Court of Azathoth is inhabited by amorphous flute players, accompanied by a large group of Outer Gods. Among the latter we must mention Nyarlathotep, Tru'nembra and Ghroth, as well as Azathoth himself.
Legacy
The name of the final boss of Kirby Star Allies is translated into Spanish as "Final Void". It does not seem a coincidence, since the creature in question is a mindless and amoral god of chaos and destruction that remains sealed in a state of torpor, which makes him very similar to Azathoth himself.
Gallery