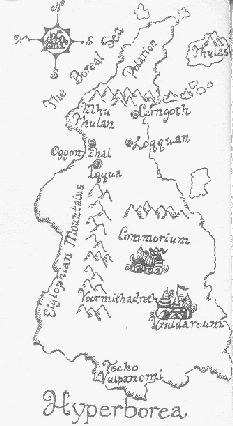 Mount Voormithadreth is a location in Hyperborea in the works of author Clark Ashton Smith in his Hyperborean Cycle.
He was influenced by Lovecraft and Robert E. Howard to write the short stories written in the Hyperborean Cycle. He wrote in The Tale of Satampra Zeiros : "[W]hat an atmosphere! I can see & feel & smell the jungle around immemorial Commoriom, which I am sure must lie buried today in glacial ice near Olathoe, in the Land of Lomar!". Hyperborea is a continent that was in the Arctic who is said to be a warm and fertile paradise.
It was also the tallest volcano in the Eiglophian mountains. The toad-goat god Tsathoggua used to live there, and the spider-god Atlach-Nacha was also living there.