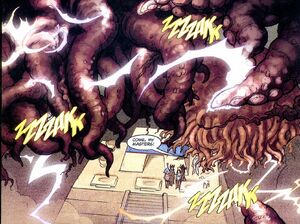 🐙 The Neflords are a Lovecraftian-like race of dark gods in the fictional universe of the Hack/Slash comic book by Devil's Due Publishing.
Background
Edit
Neflords are an eldritch race whose forms are fleshy flying masses of flesh with many tentacles protruding from the bottom. Who rule the dead dimension of Nef and its demonic inhabitants, including the humanoid Nefspawn. Despite being powerful gods they cannot create, as they are gods of death and suffering.
To create they need humans, whom are pure, good, and virgin. Neflords find humans (heros) and offer them gifts (music and talents). The humans use those gifts and become famous, earn glory, and receive the love of many. Using the magic they are taught by the Neflords, they send them pure humans. Whom are violated and impregnated by the Neflords. Once the "hero" has done his part, the gifts leaves him. He in turn finds other "heroes" who want the same thing he wanted. Nefspawn are produced from these unions, and have been sent to Earth as assassins against Cassandra Hack.
Gallery of Neflords
Edit
Gallery of Nefspawn
Edit