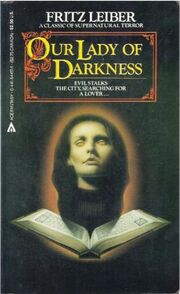 Our Lady of Darkness is a Fritz Leiber novella. It was repurposed as a source for the Call of Cthulhu campaign "Our Ladies of Sorrow".
Publisher summary
Our Lady of Darkness introduces San Francisco horror writer Franz Westen. While studying his beloved city through binoculars from his apartment window, he is astonished to see a mysterious figure waving at him from a hilltop two miles away. He walks to Corona Heights and looks back at his building to discover the figure waving at him from his apartment window—and to find himself caught in a century‑spanning curse that may have destroyed Ambrose Bierce, Clark Ashton Smith and Jack London.
Contents
This Fritz Leiber novella is a pioneering early work of urban fantasy. It introduces the concepts of Paramentals, Megalopolisomancy and also references the magical powers of music for good and evil.
The novella is notable for taking the Lovecraftian approach of using real world locations and parodies thereof to the logical extreme. Every element of contemporary 1976 San Francisco is described, in detail, accurately and with affection. Fritz Leiber also creates in the figure of Franz Westen a very accurate autobiographical figure to the point of almost being a self-insert.
The main antagonist in the novella is a Paramental entity nicknamed Taffy.
Behind the Mythos
Fritz Leiber with all his skill as a writer, catalogues and comments on the whole Lovecraft Circle and its milieu in this work. He also catalogues and comments on San Francisco. Several people have made a "pilgrimage" out of visiting the places Leiber refers to in the novel, all of which are quite real.
External Links
For a particularly detailed review of the locations of Our Lady of Darkness, Mike Humbert's website does an excellent job.