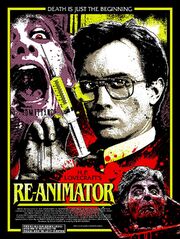 Re-Animator is a 1985 American comedy horror science fiction film loosely based on the H. P. Lovecraft episodic novella "Herbert West–Reanimator." The film was directed by Stuart Gordon and produced by Brian Yuzna, it was the first film in the Re-Animator film series. Its success caused a small boom in Lovecraft adaptations in cinema and the film is still used as one of the benchmarks for appreciating and critiquing Lovecraftian cinema up until today.
Synopsis
A black-comedy retelling of the original story, Re-Animator is updated to a contemporary setting. It takes its plot and characters from the first two episodes of the serial, depicting West as a medical student at Miskatonic University.
Adaptations
The film was adapted for the stage as Re-Animator: The Musical, first performed in 2011. Stuart Gordon and Dennis Paoli, the original film's director and screenwriter respectively, both played key roles in the new production.