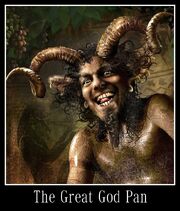 The Great God Pan is a horror story of misogyny, miscegenation, rape and the crossing over two worlds, written by Welsh writer Arthur Machen and published in 1890.
The story is that of a woman violated by an extradimensional entity. She then gives birth to a daughter who is in fact the incarnated form of something from beyond. It is an experimental mix of science fiction and gothic horror.
It is mentionned by Henry Armitage as a direct parallel to the Dunwich Horror (HPL: The Dunwich Horror) suggesting it was Lovecraft's inspiration for his story.