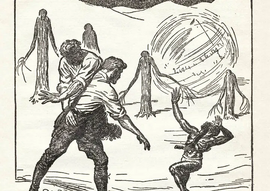 🐙 𝓦𝐓 The Tree Men of M'bwa is a short story by Donald Wandrei, first published in Weird Tales, February 1932.
Plot Summary
[
]
A group of white explorers enter an area modern white men have yet to map, and discover a weird shining pyramid entity, the God of the Red Flux, and the zombie-like creatures into which it turns humans - the Tree Men of the title.
The entity from the shining pyramid is alien, referred to only as The Master. There are also references to previous visitors to the circle of trees in which the Master resides, including men from Atlantis, Rome and Egypt. Mention is made of "Evil Old Ones" but there is no direct correlation made or reference to the Mythos in this story.