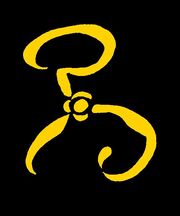 In the Cthulhu Mythos, The Yellow Sign is a symbol that is usually used by the Brotherhood of the Yellow Sign, a cult that worships the Great Old One Hastur.
It is said that the symbol can bestow supernatural powers such as mind-control and possession, and is used to get people under the control of the King in Yellow.
Behind the Mythos
[
]
The Yellow Sign is originally referred to in the Robert W. Chambers anthology "The King In Yellow", and since this predates the works of H.P. Lovecraft had nothing whatsoever to do with the Mythos or any related concepts. Instead, as with the yellow colour of the original cover of the novel Dracula, it was an oblique reference to the idea of contagion rising to the level of a supernatural force. The Yellow Sign in Chambers' work is never described, but those who see it or are shown it are put on the path to self destruction, much in the same way that in "The King in Yellow" people can commit suicide or be driven to despair and suicide simply by reading the book of that name within the stories of the anthology. There is a subtlety and gothic element to the original conception that is completely lost in the reductionist syncretism of reducing the Sign to something akin to a protective pentagram.
In any shared universe such deflation becomes inevitable, but in the case of the Yellow Sign is it marked; Chambers wrote a work which Lovecraft himself described as "achieving notable heights of cosmic fear" and which was a work of gothic romance in both senses, dealing with lost loves, broken hearts, insane dreams and delirium visions. The Mythos version of the Sign is much more a kind of practical piece of armament with extremely clear-cut rules. To that extent it is as violent departure from the original author's intent as the August Derleth conflation of a moral axis with the original cosmicist Lovecraft works.
External links
[
]